Wow, an absolutely insane time in my music career folks! I've spent the last couple of months flying back and forth to Austin to record the album I have been writing with
Ruby James
and the results are already blowing us away. We have been recording at Tequila Mockingbird with Kyle Crusham and have had the honor of having the legendary Dony Wynn (Robert Palmer, Charlie Sexton) on drums. Let's just say he showed up with 5 cymbal bags and 20 flight cases of different snares, kicks and toms....Amazing to watch that man work. There will be more posts about this in the future as the songs become mastered and released.
However, if you are attending
Steel Bridge Songfest
this year you will be able to get a live preview of all of the new tracks on Saturday at Andres' Ballroom.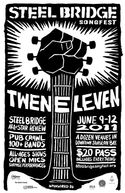 Meanwhile, back in Hollywood...The Dearest shot a new video for "Undone" this month at The Geisha Room on Hollywood Blvd. We were honored by the presence of
John McDuffie
on Pedal Steel and
Robert Black
on upright Bass.  Derek Reckley from the hilarious
Ski Lift AT&T
commercial stars in it as well. It was a total blast and everyone involved was simply so pro. Look for that as we get it edited. All three advance singles are available for FREE on our website at
hearthedearest.com
Sitting in the
Rock and Roll Sheraton
in Madison thanks to our good pal Pauli Ryan (master percussionist) taking a day off before Ruby and I head to Steel Bridge Songfest for a week of writing with upwards of 25 writers from all over the world! Spending the week in the wonderful
Holiday Motel
 with all of the other writers and recording all of the songs we write that week in the recording studio right there in the Motel. I can never fully imagine the depths and directions that SBSF is going to take but after 7 years in attendance I always know it will be incredible for me as a writer and that great songs will be created by everyone involved. So, I get to let go of everything and let the event spin me out of control. usually takes a week or so to decompress..:) 
During that "decompression" Anna and I will be packing up shop in Hollywood and heading out on the road to Austin, Portland, Wisconsin and Seattle over the summer. Our goal is to finish
The Dearest
record in Portland and have it packaged up for a release sometime this fall. If all goes well we will be able to continue touring, writing and recording. :) We will most likely land back in California somewhere but who knows what opportunities this exciting time will create?
The Last Dancers
have worked out a deal with our label in Spain to do a US release of
Pre-Revolution
as an Import! We are very excited as this will include a college radio run.
Pre-Revolution
has been very well received in Europe as well as with a few college stations here in the states who advance copies were sent to. We couldn't be more thrilled about this development. Thank you Alone Records! 
Tune in for more news and updates as the week of writing progresses and Anna and I head out on the road! -Adam M